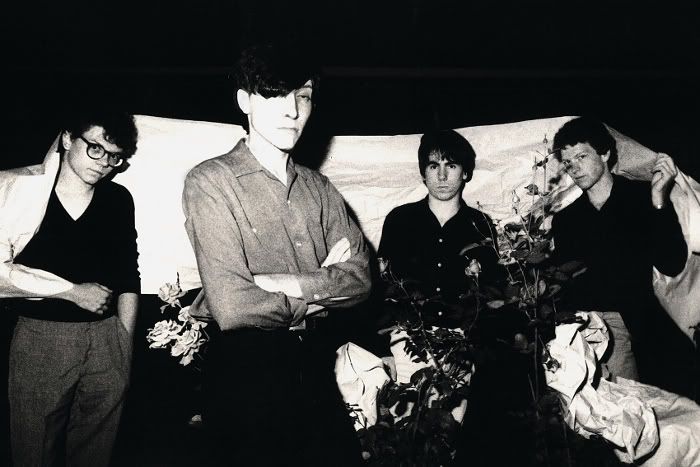 Hello fine music buyer and blog reader-
BDR Records is pleased to announce the release of Recordings '79-'81, a collection of legendary St. Louis post punk band Raymilland. The release is available on limited CD and vinyl that also includes the full length CD. Recordings '79-'81 is the first release for BDR Records; a new label who's sole purpose is to issue archival releases of St. Louis area music from the new wave era.

Raymilland formed in the summer of 1978 in St. Louis and lasted until the fall of 1981. Although starting out playing standard punk covers by the Buzzcocks, Damned, and Ultravox, their original influences and ideas about music leaned more toward the no-wave bands of NY and the more experimental bands from the UK. Raymilland played live eight times; four in St. Louis and four in Chicago. A fifth Chicago date slotted to open for Joy Division never happened when the US tour was canceled due to the death of Ian Curtis. Raymilland released one single in 1980 on Praxis; an influential Chicago music/art magazine, had one song included on the first Sub-Pop compilation cassette, and another on a compilation cassette released by the legendary Dong Dong Tapes from the Netherlands. A self produced demo cassette to attract label interest and procure live gigs was so influential that Wax Trax Records sold bootleg copies in their Chicago retail store. Although the band was constantly recording; there were no further official releases. Almost 30 years later BDR Records persuades the band to release a collection of those recordings. The members reviewed their vast archive to assemble the definitive Raymilland collection, and the result is Recordings '79-'81.

A zip file with sample MP3s can be found here: http://rapidshare.com/files/330382277/Raymilland-MP3_samples.zip
BDR Records releases are available at these fine stores....in St. Louis at Vintage Vinyl, Apop Records and Euclid Records and in Chicago at Permanent Records http://www.permanentrecordschicago.com Many fine mail order houses and dsitributors will have stock very shortly as well. For those of you who can't wait...
DIRECT MAILORDER PRICING
CD format: $10.00 each ppd U. S. - $14.00 ppd Worldwide
CD Wallet packaging with insert and sealed in mylar sleeve. 12 track CD. Limited to 500 copies.

LP/CD format: $16.00 each ppd U.S. - $23.00 each ppd Worlwide
Silk screened LP jacket with insert. 7 track LP also includes full length 12 track CD in poly sleeve with title card. Limited to 500 copies.
Paypal to: bdrrecords@gmail.com (write for snail mail ordering instructions)
For more info, orders, questions or comments, please write: bdrrecords@gmail.com
Thanks,
Jason and Matt - BDR Records