Heya Kids-
Here is the direct mailorder info for the two new BDR releases. Let us know if you have any questions or comments!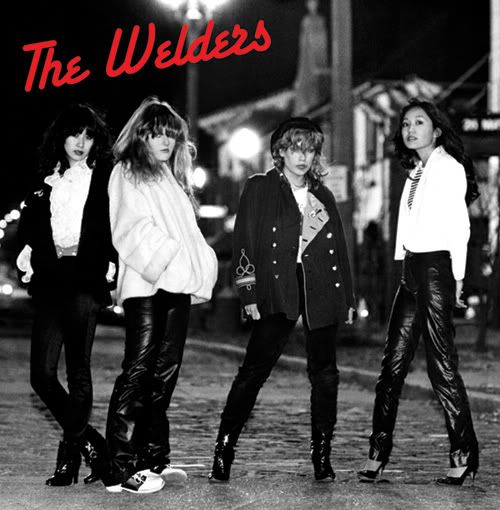 The Welders-4 song s/t 7"ep (BDR#3)
The Welders formed in 1975 and dissolved in 1981; leaving behind only a few fanzine articles and faded memories of their live performances. They were St. Louis? first and only all female band during the Punk era. Where many Rn'R females tout the bad girl persona, The Welders chose to embrace their good girl tendencies to create a near perfect blend of The Monkees, New York Dolls and Saturday morning cartoons. A recording session in 1979 for a planned vinyl EP never saw the light of day when the individual backing the release went bankrupt. That session has been rescued and restored from a 30 year old, rotting cassette, and BDR is happy to bring you this master piece of St. Louis music some three decades later.
*The Welders EP is a pressing of 500 copies on opaque red vinyl, in a glue pocket sleeve, with a double sided 7" x 14" insert*

MP3s of two Welders' songs can be heard by downloading this file: WELDERS SAMPLE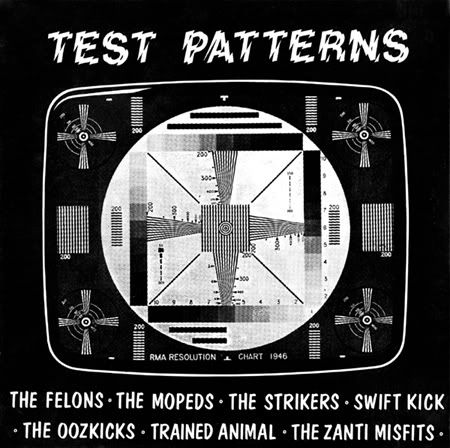 V/A-Test Patterns CD (BDR #1)

BDR brings you a reissue of the classic Test Patterns compilation album; originally released by Jet Lag Magazine's John the Mailman in 1981. Although obscure outside of the area due to a lack of national distribution upon its initial release, the compilation is known to early Punk/Indie record collectors and some clued in music historians. Test Patterns features two songs each by seven independent bands from the St. Louis area: The Felons, The Mopeds, The Strikers, Swift Kick, The Oozkicks, Trained Animal and The Zanti Misfits. The songs range from poppy Punk to Power Pop to hard-edged New Wave, with a couple bands even giving a nod to the 2 Tone revival of the day. Remastered from the original tapes and issued on compact disc for the first time ever! Liner notes by Steve Pick of Jet Lag Magazine and Jason Ross of BDR Records.

MP3s of three songs from Test Patterns can be heard by downloading this file:
TEST PATTERNS

Raymilland-Recordings '79-'81 is still available...see the post below...

-MAILORDER PRICING-
Welders 7"ep $8.00 U.S. - $10.00 Canada - $12.00 Rest of the World

V/A-Test Patterns CD $9.00 U.S. - $11.00 Canada - $12.00 Rest of the World

Raymilland-Recordings '79-'81:
-CD Format $10.00 US - $12.00 Canada - $14.00 Rest of the World
-LP/CD format: $16.00 U.S. - $19.00 Canada - $23.00 Rest of the World
-Limited Time Combo Deals-
Combo #1: Welders 7" and V/A-Test Patterns CD
$15.00 US - $18.00 Canada/Mexico - $21.00 Rest of the World

Combo #2: Welders 7", V/A-Test Patterns CD and Raymilland-Recordings '79-'81 CD format
$23.00 US - $26.00 Canada - $29.00 Rest of the World

Combo #3: Welders 7", V/A-Test Patterns CD and Raymilland-Recordings '79-'81 LP/CD format
$28.00 US - $33.00 Canada - $40.00 Rest of the World
**All pricing includes postage and fees** Paypal to: bdrrecords'at'gmail.com

For more info, wholesale rates, orders, questions or comments, please write: bdrrecords'at'gmail.com

Thanks,
Jason
BDR Records - P.O. Box 19202 - St. Louis MO 63118-9202