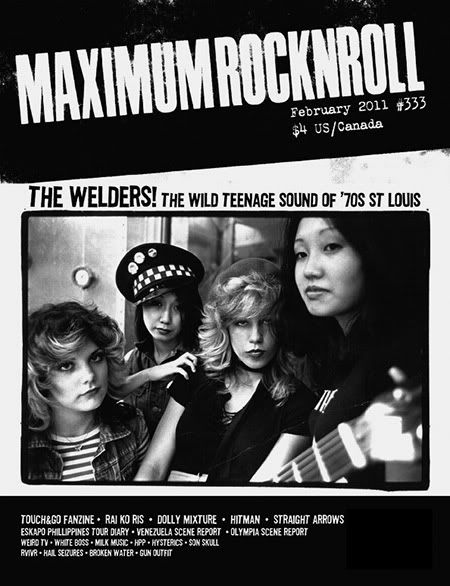 The Welders were interviewed during the record release show this past summer. The intervi
ew was submitted to MRR, and much to our surprise...they even decided to put 'em on the cover of the new/February 2011 issue!

Today MRR, tomorrow the world!
We've been flooded with orders due to the recent, stellar reviews from Big Takeover, Terminal Boredom, MRR and others. Don't worry, we still have some copies left...but you'd better hurry! Mailorder info below...
**All pricing includes postage and fees**
Paypal to: bdrrecords'at'gmail.co
m**
The Welders 7"ep

$8.00 U.S. - $10.00 Canada - $12.00 World

V/A-Test Patterns CD $9.00 U.S. - $11.00 Canada - $12.00 World

Raymilland-Recordings '79-'81:
-CD Format $10.00 US - $12.00 Canada - $14.00 World
-LP/CD format: $16.00 U.S. - $19.00 Canada - $23.00 World
-Limited Time Combo Deals-
Combo #1: Welders 7" and V/A-Test Patterns CD
$15.00 US - $18.00 Canada/Mexico - $21.00 World

Combo #2: Welders 7", V/A-Test Patterns CD and Raymilland-Recordings '79-'81 CD format
$23.00 US - $26.00 Canada - $29.00 World

Combo #3: Welders 7", V/A-Test Patterns CD and Raymilland-Recordings '79-'81 LP/CD format
$28.00 US - $33.00 Canada - $40.00 World
**All pricing includes postage and fees**

Paypal to: bdrrecords'at'gmail.com

For more info, wholesale rates, orders, questions or comments, please write: bdrrecords'at'gmail.com

Thanks,
Jason and Matt

BDR Records - P.O. Box 19202 - St. Louis MO 63118-9202