The Welders-s/t 4 song 7"ep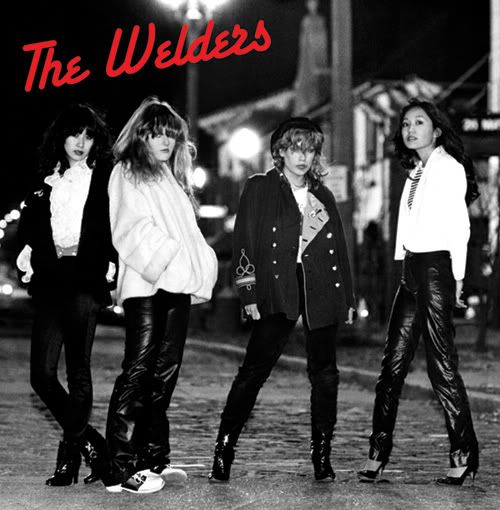 That's right kids The Welders smash hit 4 song 7"ep is available again! We sold out of all 500 copies of the first pressing, so we've done a second. 500 more copies with the same beautiful sleeve and fold out insert, but this time it's pressed on classic black vinyl. Heck, we're such nice guys that we've even decided (been able) to lower the price a bit. Since it cost less to do a second pressing, we're passing the savings on to you...for a limited time, anyway. It's so you poor kids can buy the record and still be kept in Top ramen and Meister Brau for at least one more day with your leftover loot.
Here are five reasons why you need The Welders EP whether you already own it already or not:
1. You've worn out your first copy and could use a new one.
2. Let's face it, you're a record geek super fan that must have every version of a record you dig.
3. You need a present that really shows you have good taste for a loved one, and who in their right mind wouldn't love a copy of this record?
4. Black wax means more visibility! DJ's that have trouble cueing colored vinyl in dark clubs can now rejoice with easy to cue black. With much of the fan base suffering from failing eyesight, they will now be able to place the needle on the second song of each side without having to also listen to the first.
5. It's been endorsed by Maximum Rock n Roll, Ugly Things, The Big Takeover, Henry Rollins and a whole buncha other swell radio stations, plus hundreds of teeny boppers from St. Louis and beyond! Don't you trust their opinion?
The Welders-s/t 4 song 7"ep
-SPECIAL 2nd PRESSING MAILORDER PRICING-
Single copy:
$7.00 U.S. - $9.00 Canada - $11.00 World
Two copies:
$12.00 U.S. - $14.00 Canada - $16.00 World
10 copies wholesale:
$45.00 U.S. - $50.00 Canada - $57.00 World
Don't forget we still have Test Patterns CDs as well as Raymilland-Recording's '78-'81 LP/CD & CDs for sale. Ask about package deals and wholesale rates. We are also always interested in trading with labels for similar reissue releases.
For info write: BDRrecords@gmail.com
Watch for Rerun Records and BDR Records
website and web store coming summer 2011!